See what our clients have to say!

30 Day
GOOD DOG Board N' Train
​Dog Training Review
---
30 Day
GOOD DOG
Board N' Train
Dog Behaviour
Modification Training Program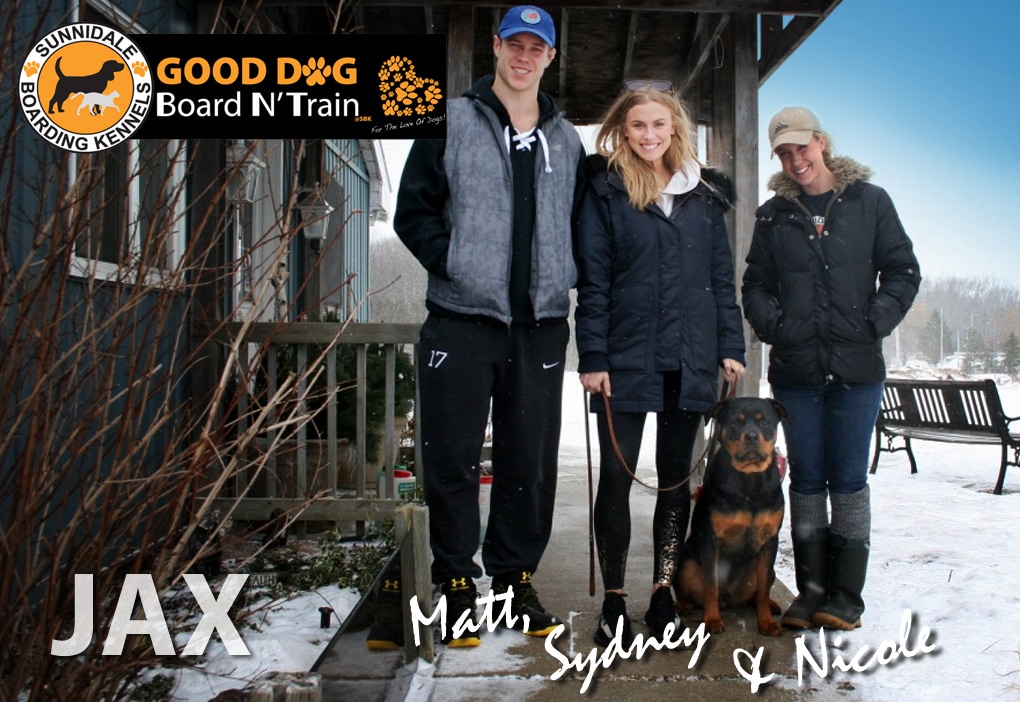 Customer Review

Sydney Esiason

Sunnidale Boarding Kennels
5 stars
Thank you to the staff at Sunnidale for giving Jax so much love. We 100% trust you guys!

We are so ecstatic with Jax's behavior after training with Nicole. He's focused and driven and can co-exist in hectic environments. When we first brought our 1 year old Rottie, he was aggressive, jumpy, nippy, hard to walk, disobedient, and didn't listen to us. Nicole enlightened us that his breeding lines were from working Rottweilers and that he was out of control because he felt he had no job or purpose. After the 30-day board and train program with her, he is mentally and physically stimulated as he should have always been. We can't wait to keep up the training in our own home environment as well as hopefully expand his horizons some more! Thank you to the staff at Sunnidale for giving Jax so much love and taking care of him as if he were your own. Nicole has transformed him into a focused, controlled and obedient dog. We barely even recognize him!! We 100% trust you guys! Jax will miss you but he'll be back to visit
Jax came in for training as his owners were having multiple issues with him. The biggest issue was leash walking. He was reacting on the leash towards people and other dogs. He was leaving the house in a muzzle as was barking, growling and lunging at people he was seeing out for his walks. He was constantly jumping on his owners and guests visiting the house, biting at clothing and just all around being a bully. He was constantly in an over aroused and very anxious state. He found it hard to pay attention or focus on anything. Over the month Jax has learned to focus and pay attention to his handler. He has learned a whole new set of skills and vocabulary that now make it possible for him to understand what is expected of him. Jax now knows what is expected of him and there's motivation for him to behave in a way that is desired; which drops anxiety and over excited behaviour. He has learned how to go on a structured walk and how to properly react when seeing people and dogs out in public. He no longer needs to wear his muzzle, he has very solid obedience skills and he is a pleasure to be around.
---
45 Day Board N' Train - DOG Training Program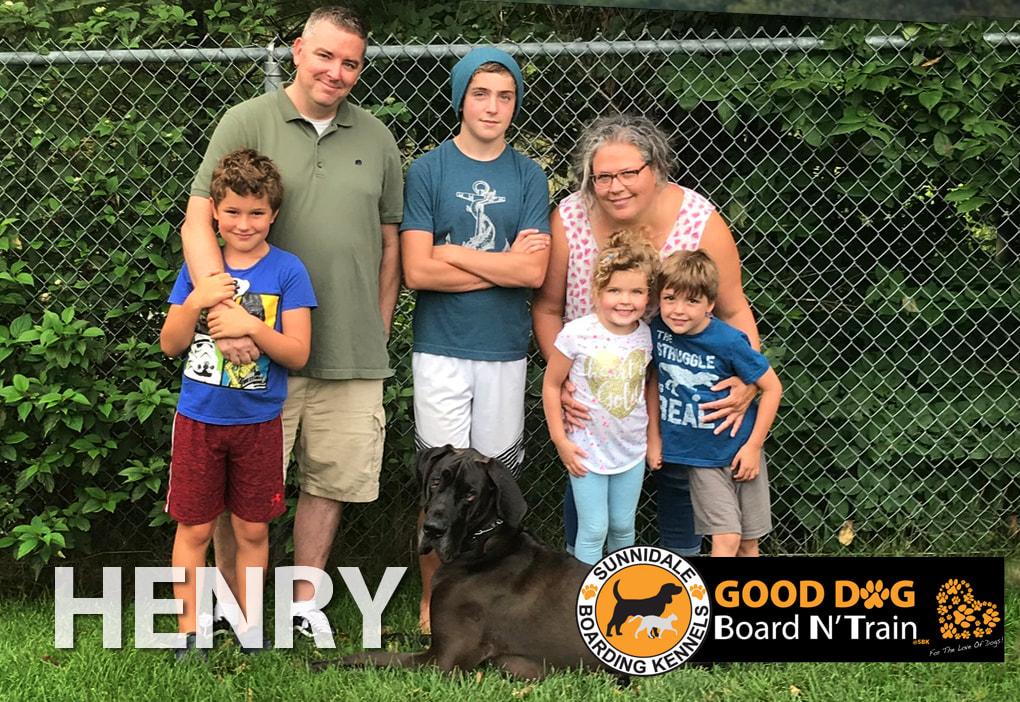 Nicole is a wonderful trainer who really understands our dog's needs. She equipped us with tools to establish good behavior, and our dog Henry has shown vast improvement after his 6 weeks at Sunnidale Boarding Kennels. Nicole easily addressed several different issues with Henry, and then set about the more difficult task of teaching us how to maintain these new habits and behaviors. We had never used an e-collar before, but feel it was the best choice for our family. We are now perfectly equipped to help our strong-willed dog maintain his appropriate behavior, and we understand how to advocate on his behalf. Henry is happy and healthy and our family is overjoyed to have him back with us at home.
Thank you Nicole!!!

---
21 Day Board N' Train - Puppy DOG Training Program

Lisa Orr
reviewed
Sunnidale Boarding Kennels
5 star
Sunnidale really made our pup feel at home!
Our new puppy Lucy just completed the 21 Day Puppy Board N Train, and it was a huge success. Nicole is a gifted trainer and the whole team at Sunnidale really made our pup feel at home and gave her the skills to be an incredibly well mannered dog! Initially I was a little hesitant to send Lucy when she was so little, she was just shy of 3 months when she arrived, but she clearly had a fabulous time and learned more than I thought a puppy could possibly learn. Sunnidale as a facility is also excellent with really well designed spaces for all of the animals that are exceptionally clean and well cared for. Thanks to the team at Sunnidale Lucy is off to great start and she's looking forward to coming back to visit soon to learn even more!
---
15 Day Board N' Train - Behaviour Modification

Laura Cretaro-Ondretti reviewed Sunnidale Boarding Kennels 5 star

A HUGE thank you to the Sunnidale Boarding team!

Mitch, Tracey and especially Nicole, who worked with our fur baby Asher. She is so knowledgeable on the issues we were having with Asher and how to correct his behaviour. He stayed at Sunnidale while we were on vacation, it made it so much easier to leave him knowing he was in great hands. He is so much more obedient now, more relaxed around guests and Nicole helped us too, walked us through what we were doing incorrectly. Our walks now are such a pleasure!!! So worth the investment, thank you - I know Asher will be back soon!
---
30 Day Board N' Train - Behaviour Modification

Lexus and Boss both work separately and together during their training sessions. Both owners have other dogs and it is great practice to work with the distractions of another dog. Both dogs are well into their training program and before the dogs were introduced already had a good set of solid skills on board. Before working the dogs together they individually had already developed calm and stable behaviour, obedience skills and recall. In this video both dogs are working on off leash recall, down stays and focusing on their handler.

Lexus is here for a 30 day Behaviour Modification package. Lexus has been dealing with confidence issues which has resulted in reactivity towards strangers in her home. Lexus came to also learn how to become motivated to listen when her family is addressing her in off leash recall and asking for obedience commands. Lexus is an introverted dog and it has taken time for her to settle in and wrap her mind around the concept of all the new rules, structure, expectations that have been put on her. Lexus has thrived during our program. She is much for focused on her handler and more excited and engaged to be part of whatever is being asked of her at the same time executing the task the first time it is asked. She is working hard on recall which will be being perfected during the rest of her stay. We have addressed and corrected any reactivity that she has shown and she is now able to "Place" while customers are moving around the kennel property and when staff are working around her while remaining calm and confident. She has done some off leash work with other dogs which is a major distraction but is still able to remain focused.

FRANK F.
The changes I saw today were unreal. I was so happy, literally a new dog.

Boss is here for a 30 day Behaviour Modification program. Boss's family is struggling with reactivity on leash and in the house. Boss is only 10 months old but is lacking the structure and guidance that puppies need in order to develop into calm, relaxed and safe family dogs. German Shepherds are bred for protection, if that natural desire isn't properly directed as young puppies the behaviour can get out of control quite quickly. Boss has settled in very well and we are slowly building a relationship together. Once this is established we will work on solid obedience, structured walking and attention to his handler. During these activites we slowly work in higher distraction areas where there are people and other dogs and we address his reactivity. A lot of the time once a proper relationship is built and structure is in place we see the dog's stress and reactivity drastically decrease. Keep an eye out for updates on Boss as we move forward together in his program!

15 Day Board N' Train - Behaviour Modification

Mich Anderson reviewed Sunnidale Boarding Kennels — 5 star

All I can say is WOW! Nicole is a miracle worker.

We have an 11 month old chocolate lab named Hank.
Hank, was a very high energy puppy who never listened to me, was destructive, would jump up on people and bark all the time. He had no structure.

Hank has stayed at Sunnidale before and absolutely loves it. After speaking with Nicole we decided to put him in the Good Dog Board N' Train for 15 days.

All I can say is WOW! Nicole is a miracle worker. We brought home an entirely new dog. He's obedient, calm, never jumps or barks. He's now a happy dog. Going for daily walks and still gets 2 training sessions a day at home. We can now enjoy our time with our dog and couldn't be happier.

From the bottom of our hearts, thank you so much Nicole for all your hard work and determination.
---
15 Day Board N' Train - Behaviour Modification

Isla and Rylie are lab siblings that have just completed a 15 day Board N' Train. They both came in to work on leash manners, obedience commands, paying attention to their handler and to work on being calm. They have both worked hard and heading home where their owners will continue the structure and rules we have laid out for them which will result in a much better relationship for the dogs and the family.
Mary Siemiesz

reviewed

Sunnidale Boarding Kennels

--

5 star
We have two 9 month old Labrador Retrievers, Isla and Rylie. They are very high energy, full-of-life pups, from working field trial lines. While not our first dogs that we have raised from puppies, this pair was giving us a run for our money! In particular we were having trouble getting them to focus on us during training sessions, especially with distractions. So, while they knew some commands, they were deciding when they would listen, and they were jumping, barking too much and pulling on the leash during walks.
We came to learn about
Sunnidale Kennels and the Board 'n Train program with their amazing dog trainer,
Nicole Mann. And we are so glad we did!
After taking a tour of the facility and being very comfortable that it was very clean and secure, (we have very high standards about this)
we decided that we would like Isla and Rylie to do a 15 Day Board 'n Train program with Nicole. We discussed our training goals with Nicole and provided background on our pups so she understood why we felt we were having difficulty. Nicole recommended that we use the Mini Educator collar as one of our tools for training. At first we were hesitant, but once Nicole explained how it worked (and also we watched many videos of Nicole training dogs that had this collar), we decided to give it a try. It really only gives a very gentle stimulation that helps get them into a training state of mind and helps them understand what is required of them.
When we came back for our first of two one- on- one training sessions with Nicole,
we couldn't believe our eyes!
What Nicole was able to accomplish in a short
15 day program with Isla and Rylie, was nothing short of amazing! No more jumping, relentless barking and leash pulling!
They also became very solid on sit, down and recalls. We had two training sessions before we took them home. The training was as much about us as it was our dogs, as Nicole gave us pointers on how to be better leaders which we really appreciated! And she provided us with some take home notes and taught us about the importance of structure for Isla and Rylie which we have found easy to implement at home.
Our investment in the Board 'n Train program is already paying dividends!
Walking with our pups is now a pleasure. The "place" command that they have learned has now enabled them to be with us most of the day and they now spend very little time in their crates. While we train them on-going throughout the day, they also get formal training sessions every day to help solidify the obedience commands. And after a few short weeks at home, we are already varying the use of the collar as they are responding quickly without it. Isla and Rylie are still very happy, high energy pups, but they are actually a lot calmer and best of all, we finally have control!!
Many thanks to Sunnidale owners Mitch and Tracey and staff for looking after them so well during their stay and for being
very patient and gracious
with our frequent calls. Providing us with pictures was also wonderful. It's tough to be away from our pets and they understand it! Most importantly, a big thank you to Nicole, a very talented trainer, for helping to lay the foundation for us. She has changed our life and we can't thank her enough.
We highly recommend and trust Sunnidale
, and we will be taking Isla and Rylie back again when we need boarding and possibly advanced training.
---
15 Day Board N' Train - Behaviour Modification

MJ Eisses reviewed Sunnidale Boarding Kennels — 5 star
There is peace of mind
The 15 Day Board & Train created a great base for us to continue training with at home. There is peace of mind that our pet is well cared for while at Sunnidale.
---
15 Day Board N' Train - Puppy Training

Paula Lash reviewed Sunnidale Boarding Kennels — 5 star

Sunnidale boarding was fantastic! Our puppy Lucky was there for the 15 day Board N' Train program and did so well. Nicole is a skilled trainer - I couldn't believe how much Lucky learned - he is a different dog! Nicole
helped me understand everything so we have been able to keep the training going at home. Thank you Sunnidale!
---
15 Day Board N' Train - Behaviour Modification

Ben Courtice
Took Alfie on a long walk around the city yesterday evening and he did great. On busy streets he was totally relaxed. We passed several dogs, a couple of which ran up and got in his face, and he was very relaxed about it. Passed a dog sitting along on the sidewalk and had him walk up within a few feet and sit/lie down, no problems. Afterwards we went to the park and did some work with the long line + e-collar and he did great. The park was totally packed because it was so nice out, but he was really focused. Was great at laying down and watching me walk away, didn't fixate on any dogs or people. When we were done he slept by my feet while I sat on a bench in the park. All great signs!
---
15 Day Board N' Train - Puppy Training Program

Paul Kin reviewed Sunnidale Boarding Kennels — 5 star
I just picked up Skye yesterday, and I was very impressed with Nicole. She went through everything in detail and allowed me to ask all the questions that may of come across my mind with respect to the training that she had put him through.
I went with Skye for a walk this morning and he was a very different puppy. He walked calmly and listened to all commands. He's stay and place commands impressed my wife and kids. thanks Nicole for all of your hard work
Skye stayed
at Sunnidale for 15 days, the staff were terrific with him. They patiently answered all of my questions when I called, which was frequently, and I felt confident that he was in very good hands. Thanks everyone for taking such great care of Skye!!!
Thanks again.
Sincerely,
Paul kin
---
15 Day Board N' Train - Behaviour Modification

30 Day Board N' Train - Puppy Training Program

15 Day Board N' Train - Behaviour Modification

30 Day Board N' Train - Behaviour Modification

15 Day Board N' Train - Puppy Training Program

15 Day Board N' Train - Behaviour Modification

15 Day Board N' Train - Behaviour Modification

30 Day Board N' Train - Behaviour Modification

Dog Training Ontario is located just outside Barrie in the beautiful countryside. Our team of professionals will work with your dog several times a day to create a perfect balance of training and playtime. Let us help you, your family and best friend conquer the training and get the guidance that is needed to a better life with your best friend.
---
Custom Training Packages Can Be Groomed To Your Pets Needs!