2015 Outstanding Customer Service Award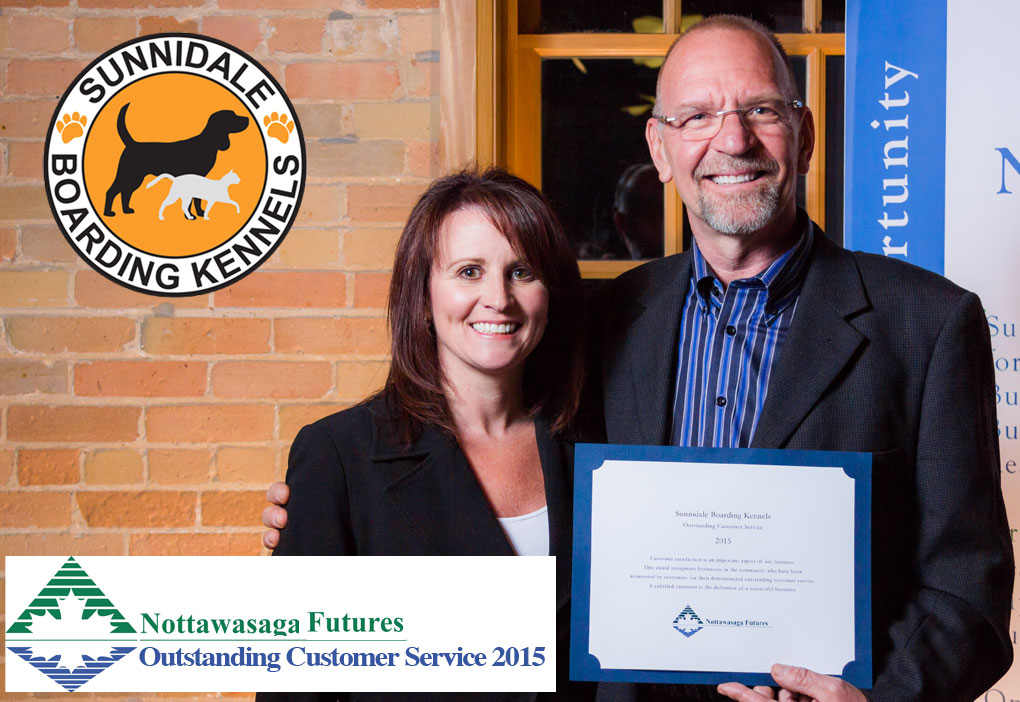 Team Sunnidale is proud to receive the 2015 Outstanding Customer Service Award. "Customer satisfaction is an important aspect of any business. This award recognizes business in the community who have been nominated by customers for their demonstrated outstanding customer service. A satisfied customer is the definition of a successful business. Nottawasaga Futures"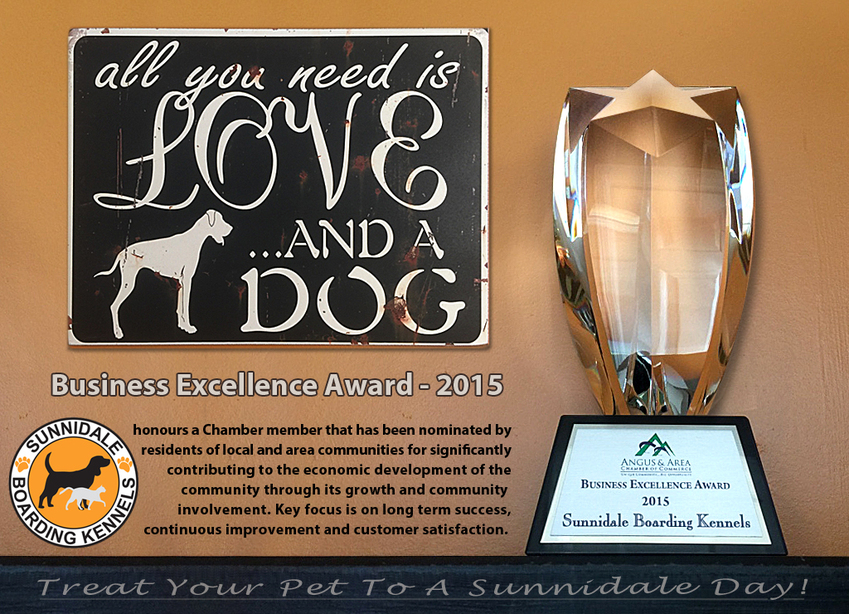 Business Excellence Award honours a Chamber member that has been nominated by residents of local and area communities for significantly contributing to the economic development of the community through its growth and community involvement. Key focus is on long term success, continuous improvement and customer satisfaction.

Since 1994 - The comfort, safety, health and happiness of each pet guest is our number one priority!
---
At Sunnidale Boarding Kennels - Dog & Cat Resort we understand


that leaving your loved one in the hands of others is an important and difficult decision. And, delivering our clients an unmatched peace-of-mind is what makes us a premier dog & cat care facility!

At Sunnidale Boarding Kennels Dog & Cat Resort the comfort, safety, health and happiness is our #1 priority. In doing so, all of our pet guests' medical records, personality profiles and special needs are carefully recorded to ensure a safe and healthful visit. We supervise our guests 24-hours per day, seven days per week. And, in the unlikely event of an emergency, we are conveniently located close to the

Mill St Animal Clinic!

For maximum safety, all guests must meet our published health and temperament standards prior to check-in. In the event a pet arrives and does not meet our guidelines, they are referred to the veterinary professionals of

Mill St Animal Clinic!

before they can be admitted. In the best interest of our pet guests, all clients consent (via written agreement) to medical attention from

Mill St Animal Clinic!

while under our care.

Dog & Cat guests requiring special attention while boarding (handling, injections, splint/bandage changes, hand feeding, etc.) are handled on a case-by-case basis. The staff will administer oral and topical medications as instructed. All medications shall be provided by owner, clearly labeled and must include written instructions with pet's name, type of medication, dosage, and schedule.

Your Dog & Cat will love Sunnidale


Mitch & Tracey Ostapchuk - Owners
Pet Lovers
Mitch Ostapchuk - Owner


Pet Lover


---

Nicole Mann - Dog Trainer - Manager


Pet Lover

---

Marilyn Cassar - Operations


Pet Lover & Dog Walker


---

Tracey Ostapchuk - Owner


Pet Lover

---

Emily Clothier - Team Sunnidale


Pet Lover & Kennel Staff


---

Michelle Clothier - Team Sunnidale


Pet Lover & Groomer