Since 1994
The comfort, safety,
health and happiness
of each pet guest
​is our number one priority!
Our guests are our top priority
We work hard to ensure our guests have a stress free environment that allows them to socialize while removing the concern for altercations as they are in there own separate runs. The quite room allows our guests the option of having a space that is all their own. Feeding time is peaceful. We include one walk, as we believe that it is most important for our guests to do their business outside. The guests will at times use the runs in the case of emergency. We strongly suggest the pet owners have their best friend walked at least twice a day. This makes for a very happy pet and makes the stay that much more pleasant.
How will my pet be fed?
All dogs and cats are fed as individual animals and our aim is to feed your pet the same food that he would have at home. Please notify us of your pet's feeding requirements at the time of booking. We prefer you to bring your own food so their diet does not change.
Private Doggy Suite & Safe Private Protected Run!

A Private Doggy Suite for eating and sleeping with an access door to a Dog Run. A safe outside dog run is separated by a chain-linked fence. This means that your pet can socialize with their neighbor but will never get into an altercation. This ensures that your pet will never be traumatized by there stay at our dog & cat resort. The 5.5' x 19' offering over 100 sqft of living space. The personal care and time shared with our guests in our 2 acre BARK PARK is a pleasure that appreciated not only by our guests, but by our staff that are truly blessed to be able to spend time with your best friend.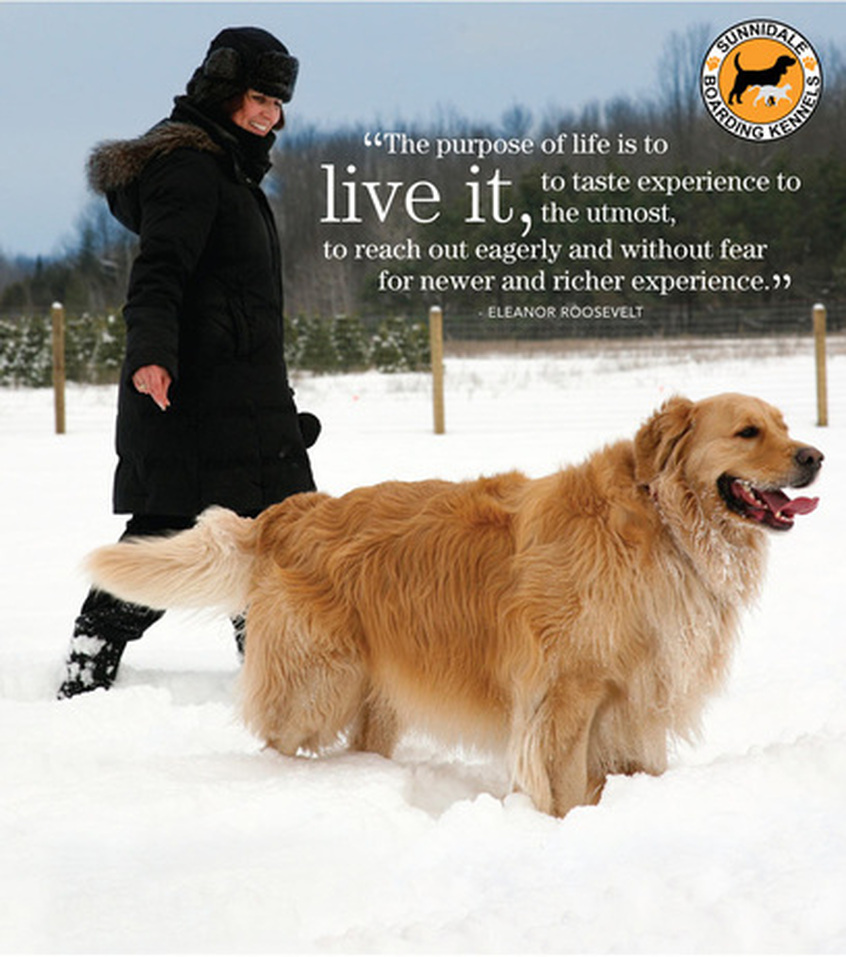 ---
WE DO BOARD DOGS THAT ARE ON A RAW FOOD DIET!
Some of our customers feed their dog a RAW FOOD DIET. We support the needs of all our pet owners while boarding their dog and our cat at Sunnidale Boarding Kennels.

OUR CUSTOMERS SAY
A raw diet provides a range of benefits that a commercially processed diet will never match.These include:Your dog will no longer have that distinctive doggie odour.

Shiny Coats & No More Doggie Odour
The numerous preservatives and additives and animal byproducts in your pet's commercially prepared food results in dull coats with a greasy residue and distinctive "doggie" odour. BigCountry Raw contains NO preservatives,or additives. We only use fresh human grade ingredients, which will produce shiny soft skin and coats with loads of shine and a lot less shedding.

Less to Scoop
BigCountry Raw contains NO Fillers, NO Corn and NO Wheat. Free of fillers and preservatives a raw natural diet is more digestible and therefore less waste is eliminated. Stools are firm, formed and will biodegrade into your lawn in a matter of days!

Allergies and Food Sensitivities are Eliminated
Switching to BigCountry Raw may diminish and ease the various health symptoms particularly food allergies. Our diets are protein specific and our sensitivity formulas such as duck, rabbit, turkey or lamb may be the answer to solving your pet's allergic reactions (continual scratching, chewing feet, hot spots, ear infections etc.) Additionally many raw fed dogs have fewer health issues, meaning less expensive vet appointments.

Clean Teeth
Poor dental health particularly the build up of plaque and tartar is very common with a commercial dry dog food. BigCountry Raw contains no added carbohydrates and a food without sugar and starches will naturally produce cleaner teeth. In addition the raw meaty bones in a raw feeding program will clean teeth to a beautiful pearly white and prevent unnecessary health concerns due to diseased teeth.

Drooling and Water Intake
With better digestibility your pet will no longer require the excessive amounts of water necessary to break down a dry food diet. In addition this will mean less drooling and improved liver and kidney functions extending the overall long term health of your pet.